About ShipBook
ShipBook is a unique tool that gives the iOS logger the power to gather Objective-C logs or Swift logs remotely, allowing you to search and analyze your user logs and exceptions in the cloud on a per-user & session basis.
​Shipbook is battery and network efficient. iOS logs are stored independently on each device: so even if the user is offline, all Swift logs or Objective-C logs will be stored directly to the device and will be uploaded to the cloud once reconnected. With Shipbook, mobile logging is remote. You can look at your mobile IOS logs remotely from all of your clients devices.
Shipbook is completely compatible with iOS: Use Swift for logs or Objective-C for logs, your choice!
Logging on iOS made easy: Shipbook is compatible with Swift logs and with Objective-C logs Our SDK is written with Swift, but we have a bridge to Objective-C.
Requirements
iOS version 10 or higher

Swift (version 5.2 or min. version 3)
Novice? Don't sweat it- once you register we have a step by step wizard to guide you through the basic installation to get started.
Won't take more than 5 minutes before your swimming solo!
To preview our quick installation: Just take a look at this quick installation guide. And of course you can delve deeper with our instructive iOS logging Doc, including Shipbook iOS SDK installation instructions for the expert iOS developer.
​
Delve deeper with our instructive iOS logging Doc, including step by step Shipbook iOS SDK installation instructions for both the novice, and expert iOS developer.
Shipbook's Platform
Bridge
This is perfect for apps using Swift logs, or Objective-C logs and remote logging within iOS 10.
All warnings, exceptions and errors will appear in our bridge, a highly intuitive graph which uses your iOS logs to give you an overview and display of the global state of your app. Easily switch between a daily, weekly or monthly overview.
Dive in! Navigate the waves of data by searching your iOS logs using parameters such as User ID, device type and iOS app version. Take full control over which logs are sent to the cloud with a simple configuration that works on the fly.
​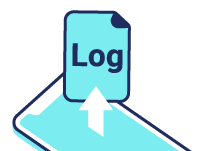 You no longer need to be tethered to your computer! No matter where you are, the moment our system identifies a new issue or specific instances of unusual activity you will immediately receive an alert.
You can choose where you want to receive alerts, whether it's directly to your email, or to your team via Slack. Your app function is safe with us.
Share the information with your team: we are fully integratable with both Jira and Slack!
​
What is the difference between Firebase/Crashlytics and Shipbook anyway?
Well then, in a nutshell, Crashlytics is a great solution for:
reporting crashes in your iOS mobile apps. The problem is: it won't catch all of the other issues that could take place in your iOS mobile app. This is the exact reason we developed Shipbook.
Most bugs and problems with apps do not lead to crashes, but are still important to fix. In cases such as these, Crashlytics, and any other solutions available targeting crashes, are of little help.
Even in the event of a crash, having access to the Objective-C & Swift logs of that session plays a critical part in understanding the steps that lead up to your app's crash and thereby in discovering the solution to preventing future crashes.
​
So how much does all this cost?

We believe in our product, and feel that it should be available for any iOS mobile app developer out there, no matter your budget.
That is why we set up our Nano plan, which is free forever!
Want to jump right in?
Try our other plans for 30 days, no strings attached, no credit card required!
For more info: come and check out our pricing page.
Shipbook provides you with unlimited members and unlimited apps!
So feel free to start developing as many apps as you want!
Let us help you prioritize and fix the significant leaks immediately... before they can sink the ship,
so you can fix your app before your users even notice a problem!