Get started faster than you can drop anchor
Shipbook is completely compatible with iOS
Use Swift for logs or Objective-C for logs,
your choice!
Behind the scenes look at user activity with full log accessibility to easily find and correct issues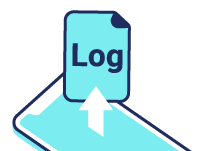 Monitor, detect and diagnose through our dashboard to maintain your expected level of excellence
Proactively catalogue logs according to issue frequency with cutting edge crash reporting
Rest assured, the automated alert system will notify you immediately upon detection of issues
Share the information with your team: we are fully integratable with both Jira and Slack!
​
Well then, in a nutshell, Crashlytics is a great solution for:
reporting crashes in your iOS mobile apps. The problem is: it won't catch all of the other issues that could take place in your iOS mobile app. This is the exact reason we developed Shipbook.
Most bugs and problems with apps do not lead to crashes, but are still important to fix. In cases such as these, Crashlytics, and any other solutions available targeting crashes, are of little help.
Even in the event of a crash, having access to the Objective-C & Swift logs of that session plays a critical part in understanding the steps that lead up to your app's crash and thereby in discovering the solution to preventing future crashes.
​
Let us help you prioritize and fix the significant leaks immediately... before they can sink the ship,
so you can fix your app before your users even notice a problem!