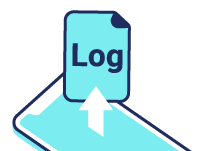 Open source SDK
continuously upload your
logs & exceptions to the cloud
Logbook
Search and retrieve logs & exceptions
Loglytics
Logs catalogued and organized according to issue frequency.
What is the difference between Firebase Crashlytics and Shipbook?
Crashlytics is a great solution for reporting crashes in your apps. The problem is that it won't catch all of the other issues that could take place in your app. This is the exact reason we developed Shipbook.
Shipbook remotely stores logs and exceptions from your app's users in the cloud. This data is crucial to understanding the steps leading up to your app's crash and helping you discover the solution

before
your users detect any problem.
​
​
Is it possible to use Shipbook and Firebase Crashlytics together?
Absolutely! Shipbook and Crashlytics work together in perfect harmony. Crashlytics alerts you when your app has experienced a crash and Shipbook will help you find out what caused the crash in the first place, displaying the logs that led up to the crash- thereby helping you solve the problem ASAP.
Integrating Shipbook with Crashlytics is a quick and simple solution. Once connected, you'll be able to open the session of the crash and thanks to Shipbook, you'll have the full picture and will be able to see all of the actions leading up to the crash.
​
Stop trying to reproduce bugs. Just fix them!
Integration

in only

5

minutes!
Get started faster than you can drop anchor
With a simple 5-minute integration, you can begin in no time.
Shipbook gives you the flexibility to easily control which logs are sent to the cloud.
iOS logs
Shipbook supports both

Swift

and

Objective-C

. Simply upload your NSLog and print logs to our cloud-based logging platform to get started.
Android logs
Our log management solution supports both

Java

and

Kotlin

. Once you save your android.util.log logs to Shipbook, you can begin viewing your logcat files remotely.
Over the last 30 days, Shipbook has collected and analyzed over
logs and exceptions